Cleantech Growth – Building On Alberta's Fossil Fuel Heritage
Today, the Daily Oil Bulletin begins a three-part series on cleantech growth. Next month, a look at carbon capture, utilization, and storage (CCUS).
---
Part 1: Living in a harsh world
The topic of climate change and the impact of human alteration of the atmosphere is one that is sure to raise passions or instill depression in any gathering. It makes politics and religion seem like safe dinner party topics unless you have carefully vetted your guests.
These days, the instant availability of unmediated information has eroded and replaced the authority of science, industry, and government to frame and inform our discussions. The number of 'likes' and Facebook friends have replaced all other forms of qualifications to influence opinion, and we measure individual success (and even revenue) in the number of clicks we generate, often through being as provocative as possible. It seems this leaves no room for thoughtful consideration in the conversation.
Now more than ever it is time for us to take a breath and look at the changing landscape we face, where we have been, and how we might build a future for the province. This series attempts to open a civil discourse exploring a prospective path forward in this most interesting of times.
We don't have an energy crisis.
We don't have a fuel crisis.
We do have an emissions crisis
Worldwide the scientific and public consensus points without hesitation to the fact that the increase in carbon dioxide in the atmosphere by more than one-third in less than a century is having profound impacts on global climate and ocean chemistry. Continuing, and even accelerating in this direction as we are today, will have severe consequences for our own and future generations, the costs of which in economic, environmental and human terms will be beyond reckoning. This does not require a subtle understanding of climate science nor deep insight into the complexities of climate models.
However, the language that is used to discuss how we might address climate and greenhouse gas matters often carry within them other agendas, confusing and confounding our ability to explore solutions. They also can be a trojan horse for moralizing and blame. I have nothing against many of these other agendas, but they should be named and recognized as separate from that of addressing greenhouse gas emissions challenge, which is the true crisis of our time.
Terms such as 'sustainable' and 'renewable' both arise out of the fuel crisis of the 1970s and represent a philosophical approach to long-term living on this planet. Technologies that carry these labels can contribute to reducing our emissions. A 'renewable' energy source, without diving deep into life-cycle impacts of manufacturing, installation and on the balance of the grid, may be non-emitting. However, it is not necessary to be renewable to be non-emitting. As an example: if we extract natural gas, convert it to hydrogen to power transport trucks or cars and either convert the resulting CO2 to rock or sequester it underground, this may be no less of a solution than using wind power to produce hydrogen or charge batteries for the same purposes.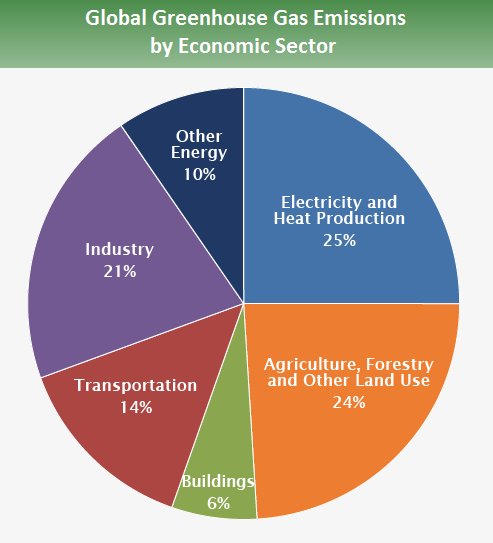 The other element that leads to misunderstanding is treating the climate challenge as being about energy. It is true that 25 per cent of global emissions derive from heat and power generation and a further 14 per cent from transportation, many important emission sources (21 per cent) arise from other industrial processes — these range from the production of fertilizers and chemicals to cement and metals (see figure at left, courtesy of IPCC).
Global markets – opportunities and threats
There are and will continue to be global markets for "stuff." All the material things that make up our world are made up of processed matter, much of which contains fossil-derived materials and the processes used to produce them have resulted in emissions. In some cases, there are relatively simple ways of reducing emissions. In most cases, the capital investment in existing production processes makes it prohibitively expensive to shut them down simply. In most of these, there is no currently proven non-emitting process with which to replace them. Transforming the global industrial economy is a process that will take decades. In the meantime, we can expect increasingly stringent emissions regulations around the world.
Imagine you manage a company with hundreds of millions, or billions of dollars invested in such a facility, faced with uncertain but certainly increasing pressure from investors and regulators to comply with tighter greenhouse gas regulations, increasing transparency and accountability for emissions up and down your supply chain, and even throughout the lifecycle of your products. Then imagine you need to decide about investing in a new plant to keep up with global demand for your products.
Faced with this challenge, the first thing you need is a long-term source of input materials and the ability to lock in reasonable price contracts. Because of the demands of your investors and regulators around the world, essential market gatekeepers will increasingly hold you to account if they are not already doing so. It would help if you had a well-regulated, transparent upstream supply chain with a commitment to driving emissions associated with the extraction and processing of your raw materials, often natural gas or other petroleum products.
For those process steps that result in emissions, you can build in CO2 capture, but what to do when you get to the fence-line?
Alberta – a fossil-rich economy (nearly) fit for an emissions-constrained world
Many of the elements required to address the many anxieties of our hypothetical investor already exist in Alberta.
Alberta has abundant fossil resources. While we still have some way to go to eliminate emissions associated with extraction, transport and processing of these resources, industry and government are working together to address these shortcomings.
We have a transparent and rigorous regulatory environment for the fossil resource sector. While imperfect and continuously subject to pressure to improve, it is among the best in the world.
The known available pore-space suitable for sequestration of CO2 in Alberta in spent oil and gas fields (1.5 giga-tonnes) and deep saline aquifers (3 giga-tonnes), enough to store over 7,000 years of Canada's national emissions. This without any new storage methods or formations that are yet undiscovered.
The geology in this province is among the most thoroughly understood in the world. Moreover, it supports some of the most advanced geoscientists and refined modeling capability anywhere. We still know how to drill wells and provide all the associated services, though we haven't been doing quite as much of late as we once did.
Development of major industrial plants and infrastructure is what built Alberta's economy. Even more than the production of oil and gas, our province was built on mega-projects and the engineering and trades capabilities required to deliver. (Oh, did I mention pipelines?)
We have demonstrated CO2 capture and storage and are building the Alberta Carbon Trunk Line from the Industrial Heartland to central Alberta. To accomplish these things, we were one of the first jurisdictions in the world to institute the regulatory structures to manage putting carbon back where it came from, including the liability issues associated with that process.
Next month: Carbon Capture, Utilization, and Storage
Next month I'll go into the questions and objections that come up around CO2 management technologies. A look at deep sequestration, EOR, CO2 conversion and questions of risk, scale, and economics.